Post by jerry on Oct 1, 2020 11:55:41 GMT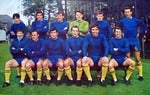 This opener, just like a normal start to a season will attract a few extra and depending on how we perform may hang around and continue to pay if the entertainment value and results are up to scratch.
My guess is there will be under a thousand £9's spent with a percentage sure to share the cost and watch together.
Would love to believe many more would pay to view but there are sure to be a number of supporters who may not be up speed with modern technology and cannot be bothered with making the effort and will choose to listen to matches on the "wireless" for free rather than stand around on a cold terrace. Its possible I could be completely wrong, in fact I hope I am and maybe this could open a up a massive revenue stream particularly if exiled supporters tune in.
Surely if streaming proves to be even a minor success and when supporters are allowed back into grounds must be looked at as a possible extra income to gate takings though I do see a danger of attendances being affected when the weather is poor with some may even be quite happy to continue watching at home if they have a choice.
All unknowns of course but if revenues can be gleaned from the large number of exiles around the globe then it surely has to be researched.
I think people may be disappointed at how many people will stream these games. For example Colchester only had about 450 home fans paying for their stream the other day (I assume this is on top of the season ticket holders who get it for free). Can't see huge numbers of non-regulars (a large perecentage of regulars will surely have a season ticket) paying to watch a sterile streaming picture every week. Let's face it football at this level is generally awful and you wouldn't choose to watch it for entertainment if you didn't support a club down here. I fear many will think that without the match day atmosphere and the chance to meet friends it just isn't that appealing. I expect the numbers to drop off very sharply if we don't start really well.
Incidentally, in the league the home club gets the revenue from all the home fans but only from the first 500 away fans. Any more than 500 and the excess money goes to the away club. Not seen anywhere official how it's actually going to work down here, just some conjecture about the home side keeping it all.