Post by Dave on Jan 9, 2011 0:16:18 GMT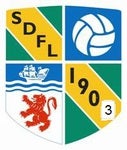 It's been said many times now on the TFF but he is such an incredibly talented player. I would encourage anyone to watch him as much as possible while you can - surely this lad is going to rise upwards very soon.
Interesting comments from Bucks from the .com site:
"The money from a Cup run is massive and I will sit down with the chairman to work out a plan for going forward, and there are lots of things that need to improve. Our training ground is not up to standard at the moment and there is so much to improve."
It is heartening to hear. I'm not convinced that Bucks will be off to Rovers this week, I think that improvement of training facilities is vital to further progression as a professional football club. Today's result shows again the fine line between progression and stagnation.
You don't need to be sixteen stone in weight to get power into a football as it is really more to do with tecneick. I think the first picture illustrates the point perfectly and you can see not only O'Kanes body shape, but the fact he keeps his head down low over the ball.
The last time Paul Buckle was linked to a club and it looked almost certain he was going, the next thing that happened was he sat down with the chairman and asked where the club was going and got his playing budget increased.
The messages on .com seem to indicate Paul Buckle is going nowhere and yet there are still strong messages coming from some you would think would know, that it is a done deal.
Some fans who might be a bit cynical might say that Paul Buckle is using the Rovers situation as a lever to get the playing budget increased a bit. The board most certainly want to hold onto their manager and now might have to increase the playing budget.Who knows? well we all will hopefully on Tuesday when and if Rovers announces their new manager.