Post by Dave on Oct 18, 2011 20:56:11 GMT
the 8th to the 15th October 2011
Unbelievable to believe but for some strange reason I have never been away from home for a whole week on a holiday in my life. But that changed last week as I spent a whole week staying in a chalet in the Mumbles next to Swansea and who better to explore the beaches and castles in that area with than my special friend Lyn who just happens to have been born and brought up in Swansea.
We left Paignton on the Saturday morning and made the mistake of stopping at a service station on the way up and having a meal. As usual it was very overpriced and very poor quality. We could not believe it when we opened the door of the chalet that was going to be our home for the week, just how good and so well equipped it was and we both knew straight away we were going to be happy staying in it.
Sunday was a very special day as Stuartb and his wife with the twins drove down from the Rhonda Valley to the Mumbles to spend the day with Lyn and I. we had agreed to meet at Oystermouth Castle, but sadly it was closed as some restoration work was taken place on it. As soon as those dear lovely twins set eyes on me they were shouting out we love you Uncle Dave and came running to cuddle me.
Unfortunately it was a damp drizzly day but that did not stop us enjoying the picnic that Stuart and his wife had brought with them and we sat on the rather windy seafront doing all we could to stop the pigeons grabbing our food. We all headed off for the Mumbles pier and were surprised to see that was closed as well, so we went into the arcade and soon the twins were having lots of fun. So thanks dear friend for coming down and making our first whole day in Wales a very enjoyable one.
On the Monday Lyn wanted to show me a number of the beaches she went to when she was a young girl growing up in Swansea and so we started with the next beach over from the Mumbles that is called Langland Beach. This was the only beach we went to that day that had any beach huts and buildings such as cafes nearby. Mind you we went to this beach twice as when we left Lyn was giving me directions and very soon we were back once again at Langland Beach only this time coming to it on a completely different road, bless her and her blond moments.
The next beach we went to was Caswell Beach and we did not stop there to long as it was blowing a gale and the café was all closed up for the winter. We then drove to Oxwich Beach and this beach is just that, a beach and nothing else is there. Close by this beach was a castle I had on my list I wanted to go and take a look at. We did find it but it was closed for the winter and so that was two castles I wanted to see I was unable to. We headed for Port Einon and were greeted by some more high winds when we approached the beach, thankfully there was a café that was open and we went in and had a meal.
Next we went to what was the very best beach of all of the ones we saw that day, Llangennith Beach. The road to the beach just comes to an end at a small caravan holiday type park and you drive through the camp to a car park at the bottom. This beach has the very best sand dunes to be found anywhere and has to be the longest beach I have ever seen. The wind was so strong we had to cover our eyes as we walked through the sand dunes to get to the beach itself as sand was being blown in our eyes.
Lyn stayed at the top of the beach and I walked what was a good distance to the waters edge as there were a number of surfers in the water I wanted to try and take a few pictures of. Have to say while the beach is amazing, the water was not and as the waves broke on the seashore, they deposited a very thick scum and I was not too sure what it was, but Lyn said she felt it had something to do with all the works in Port Talbot.
Time to head back to the Mumbles and we got lucky on the way back as we saw a sign to another castle on my list, Weobley Castle and so we went to go and see if that one was open. The castle is on farmland and the farm itself was right next to the castle and we had to go to the farmhouse to pay. Weobley Castle is not a very big castle and like most in ruins, but Lyn enjoyed exploring her very first castle and it wetted her appetite for the others I had on my list.
Tuesday we spent the day in Swansea itself and I did go and take a look at Swansea Castle but as it only has one part of a wall still standing, it was nothing very exciting. One thing Lyn has been telling me about for a number of weeks is the famous Joes Ice-cream Parlour in Swansea and that's where we ended up late in the afternoon. Have to say I have to agree with her that the ice-cream has to be the very best ice-cream in the world and I wish we had one down here in South Devon.
On Wednesday it was back to castles and the first one of the two we went to, had Lyn jumping for joy as she just loved Kidwelly Castle so much and I had to agree with her at the end of the week that this castle was the very best one we visited.
It has everything from dark underground rooms that are unlit and scary to go down into, too towers to climb with very tight and steep steps going up in a spiral. Mind you she laughed at me as she went back down those stairs in double quick time, while it took me ages to get back down to ground level myself.
It was a long drive to the next castle and it was one I had been to before when I was last in Wales visiting my youngest daughter who lives in Wales and I just wanted to see it again to remember the good time I had that day a few years ago now.
Llansteffan Castle is high on a hill and it's mainly the outside walls that are now left standing. Well after Kidwelly Castle Lyn thought this castle was a bit of a let down and stood inside the grounds and looked at me and asked " where the f**k is the rest of it" and the way she said it had me almost falling to the ground in fits of laughter.
We drove to Carmarthen and went for a walk around and we asked someone if they knew a café that was open. It seems half the town closes up at 4pm and the only one that was open we were sent to was one called the taste of Cornwall and only did pasties. Well we sure did not want to be eating Cornish pasties in Wales and so we left and sometime much later found a nice pub to eat in.
On Thursday we decided to go to Barry Island (not sure why it's called an Island as that is one thing it is not) and we wanted to go and see Beaupre Castle on the way. As it turned out Beaupre is not a castle at all and boy should I have listened once again to Lyn as I got us lost and what should have taken us an hour in the car ended up taking three hours.
After our mystery tour we ended up in a place called Rhoose and while Beaupre Castle is not that far away from Rhoose, I could not find anyone who had ever heard of it. As I was about to give up and leave the post office a man came in and over heard my conversation and told us how to find the place.
We did go to the village he told us and then leaned we had to go back out again and park in a very tiny lay-by and walk across fields to get to Beaupre Castle. I struggled to get my short legs over the stone style and then Lyn and I had to pick our way across the first field that had sheep in it trying to avoid stepping in their mess. The next field had cows in it and once again I have to say Lyn took it all in very good fun.
Beaupre is really a ruined old manor house and was once home to the Bartlett family who were very rich until they gave their support to the king back in the days of Cromwell and in doing so ended up bankrupt. I always feel its such a shame that such grand buildings such as Beaupre once was, end up in such a ruined state.
Time to walk back across those fields and head for Barry Island and by the time we got there nearly everything had shut up shop for the day. We did find a nice café to have a meal in and then a shop to have our daily ice cream. Have to say the beach is one of the cleanest I have seen and even at 7pm there were a good number of people walking on it. We walked around a coast path to the next cove (unsure what it's called) and then back again to the main seafront of Barry Island. Getting dark it was time to head back home to the Mumbles and this time I listened to Lyn and the journey home was a dam sight quicker than the one we made the other way in the morning.
Friday was my birthday and I can't thank Lyn and her dear mum enough for making my birthday so special and one I will remember for ever. Lyn and I drove to her mum's house and as she was feeling so much better, we took her into town and after doing a bit of shopping in the old market hall, Lyn's mum treated us to a wonderful liver and bacon dish that is very popular in Swansea. We went back to Lyn's mum's home for the afternoon and at 7pm we all went out again to a pub to once again be treated to another meal by Lyn's mum. If anyone had said to me nine months ago that on my next birthday I would be in Wales with a lady who moved to Devon over 30 years ago and her mum who lives in Swansea, to celebrate my birthday, I would have told them they were stark raving mad.
Saturday and it was time to pack up and leave the chalet that had been our home for the last week and we both did so feeling rather sad our wonderful week had come to an end. We had planned to take in one more castle on the way home and that one was Caerphilly Castle. In my view from the outside and mainly due to this castles wonderful moat around it, I thought this was the best looking castle.
But it is a bit spoilt as far as Lyn and I was concerned as some of it has been rebuilt and the bits that have been, stand out like sore thumbs. It would have cost us £4 each to get in, but boy do those boy scouts come in handy when you need them. We had parked in a street at the rear of the castle and as we walked towards it noticed a bridge over the moat that had a door into the castle at the end of it. We just though this was the way in and once at the door soon discovered it was locked. We then heard voices on the other side of the door and shouted out can you open the door? The door open and it was those boy scouts who opened it and in we walked, it was not until we were inside we realised we should not have got in that way.
While there were towers to go up etc, the modern hand rails and lights made it lose a sense of being a very old castle ruin and in one room Lyn burst out laughing and I was unsure why until she pointed out a gas heater on the wall. Still I was very pleased we went to Caerphilly Castle and I do hope some time next year I go back to Wales and do another group of Castles I would like to go and explore.
A truly wonderful week full of fun and laughter every single day and once again a very big thank you to Lyn who made it so special and so memorable.
The meeting place Oystermouth Castle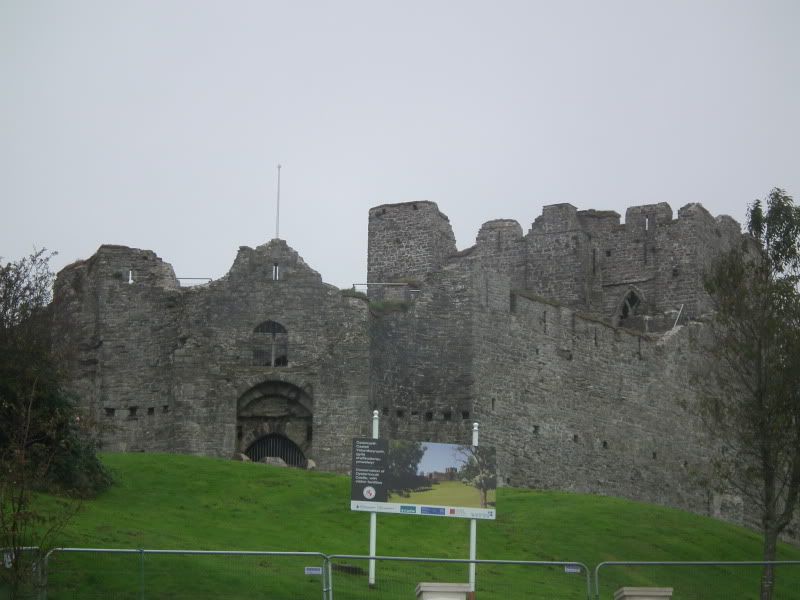 A night shot I took on another night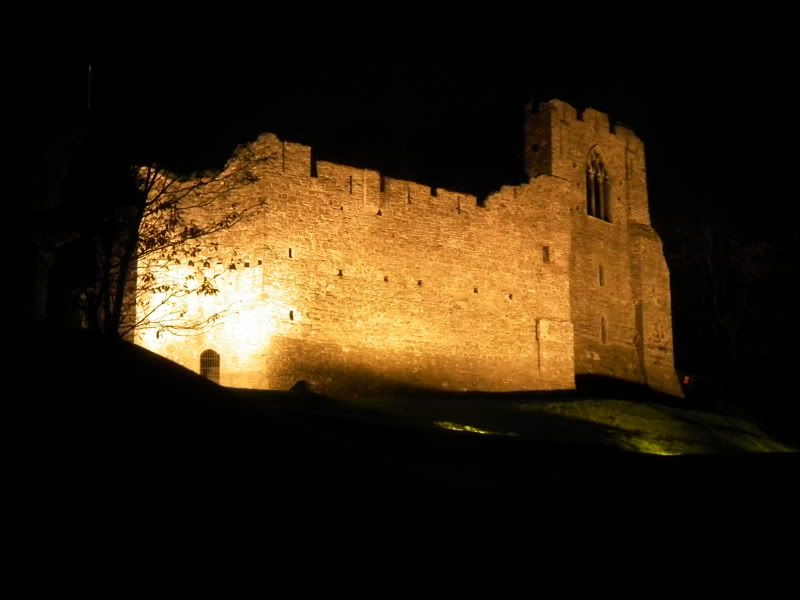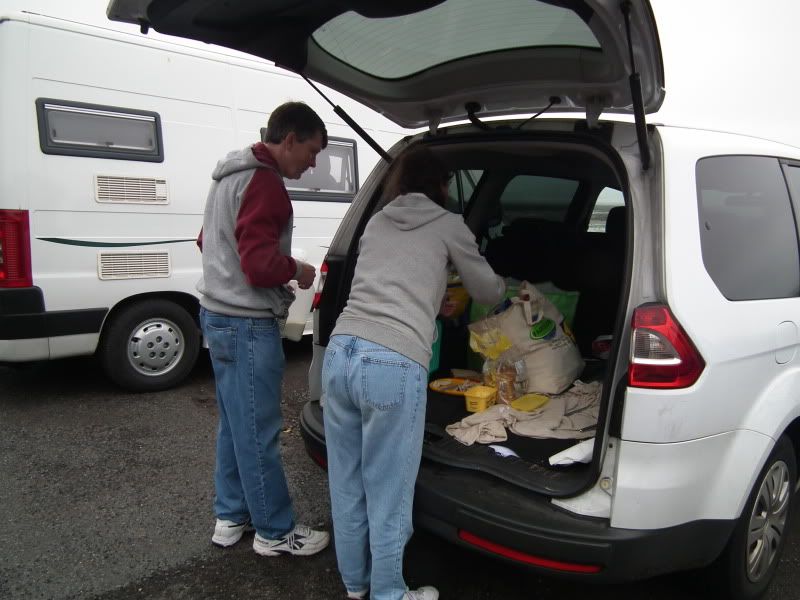 Mumbles Pier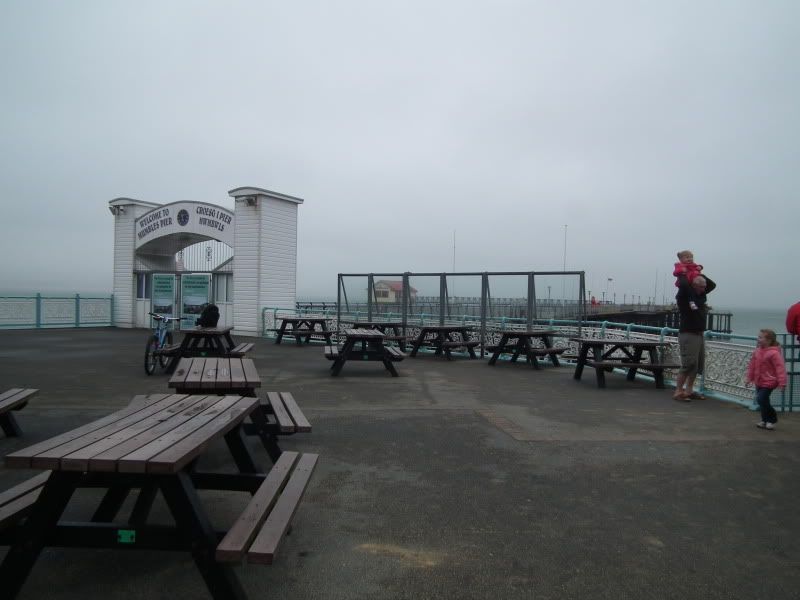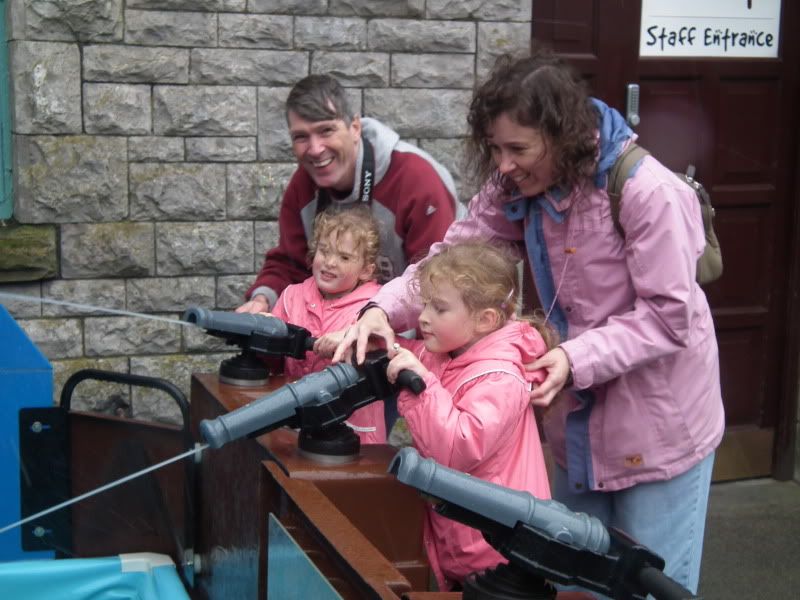 Langland Beach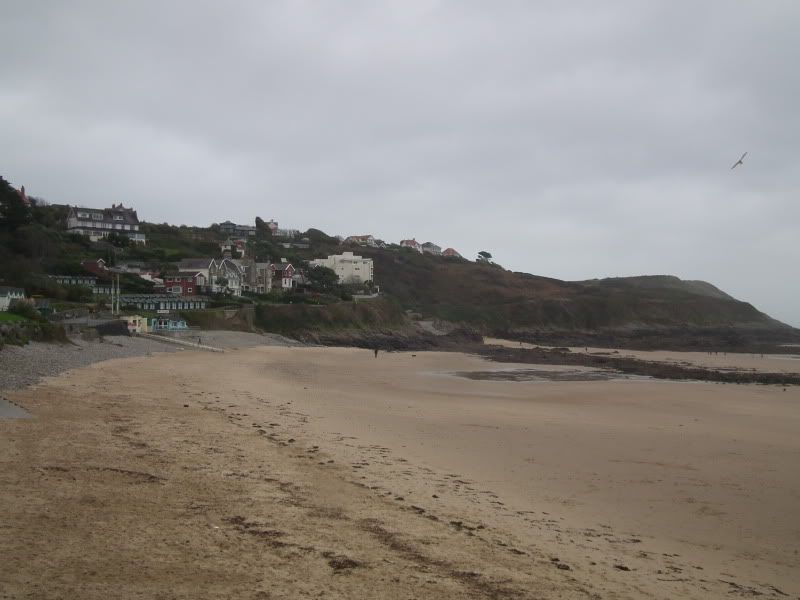 Caswell Beach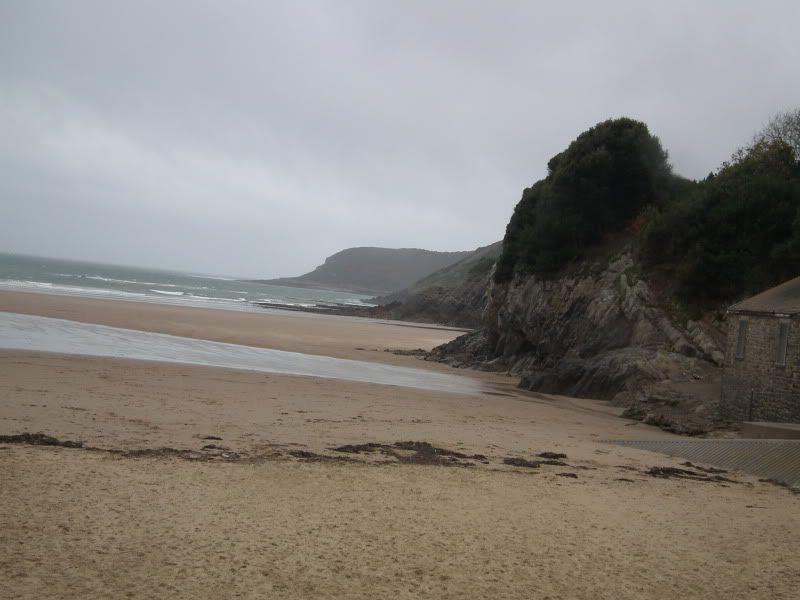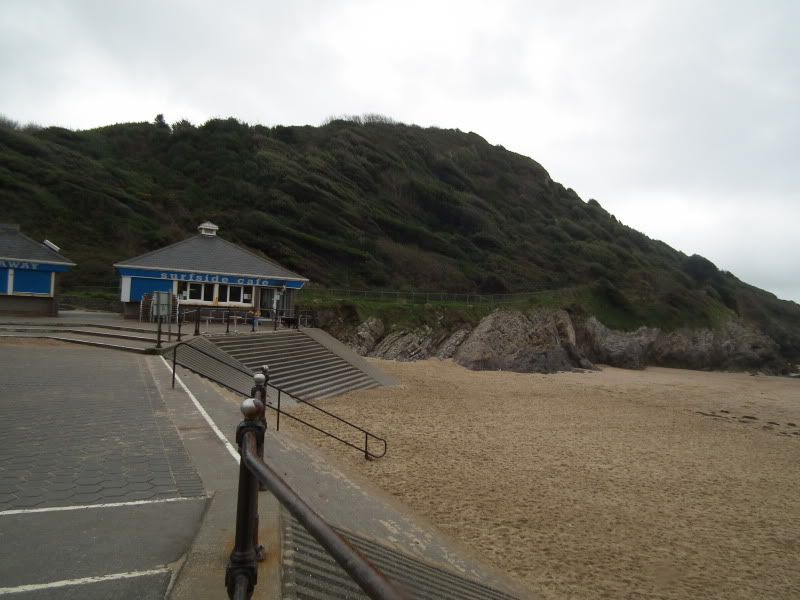 Oxwich Castle ( it was closed for the winter)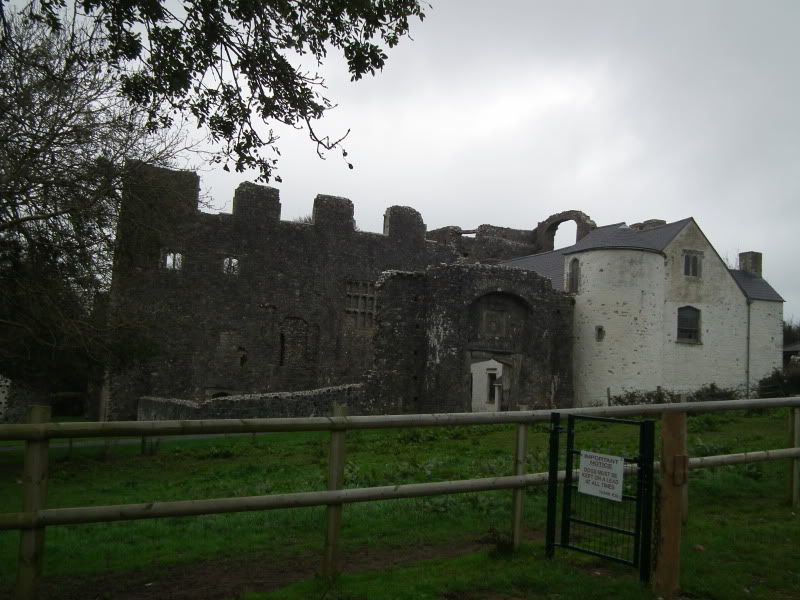 Oxwich Beach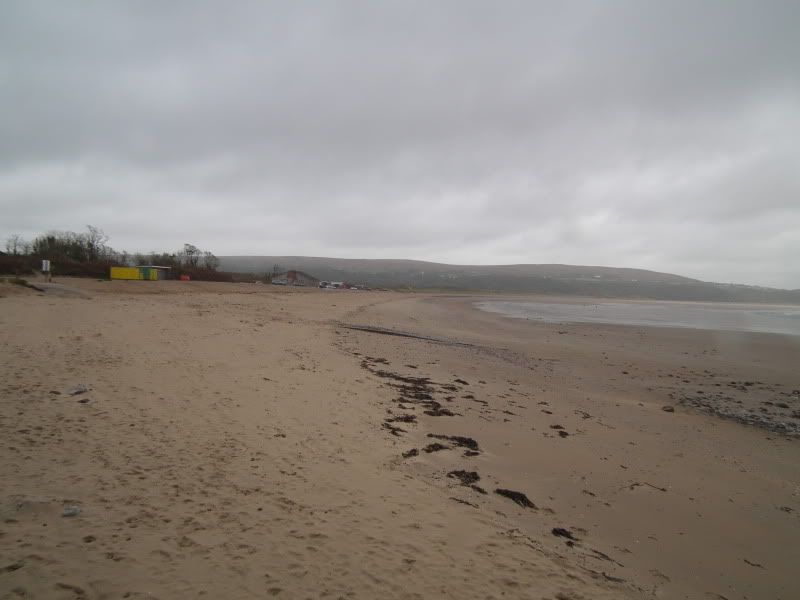 Port Einon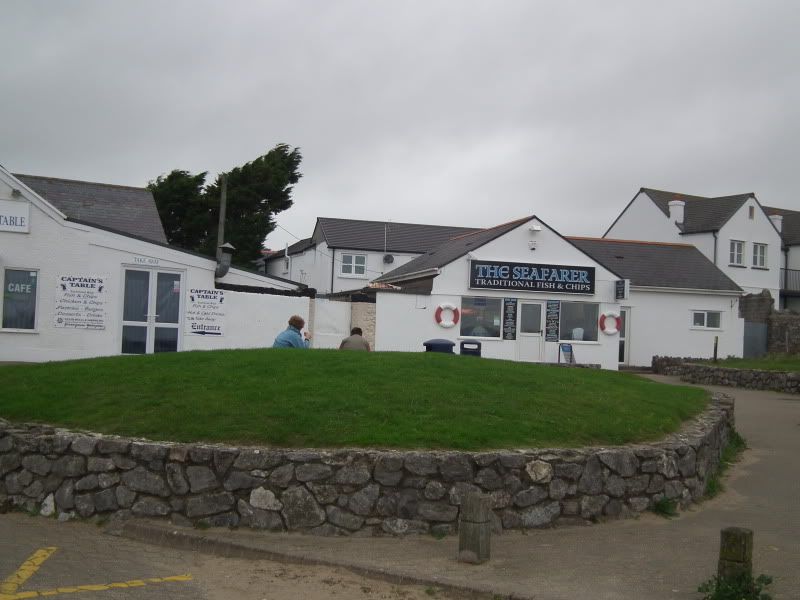 Llangennith Beach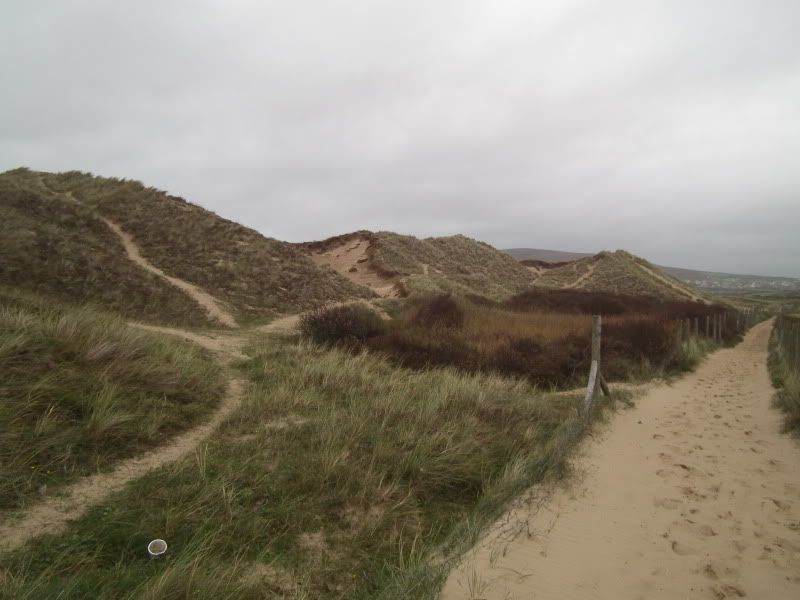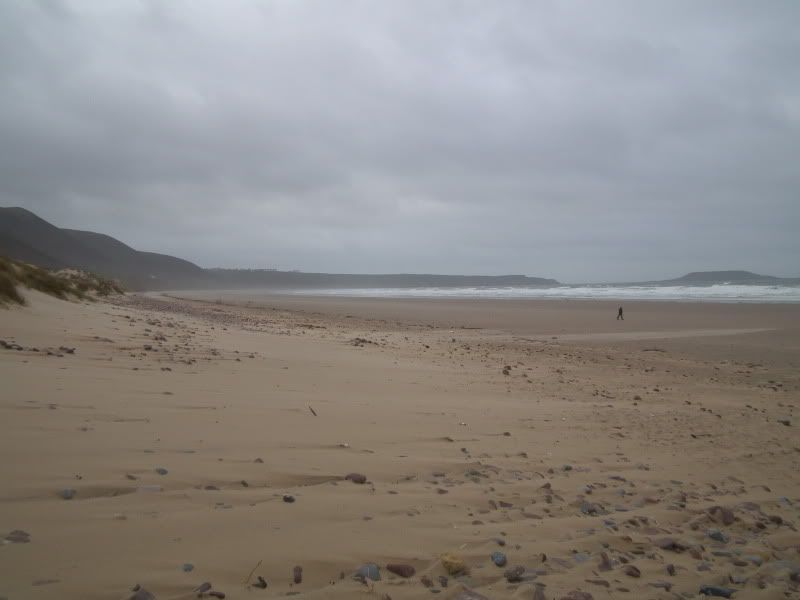 Weobley Castle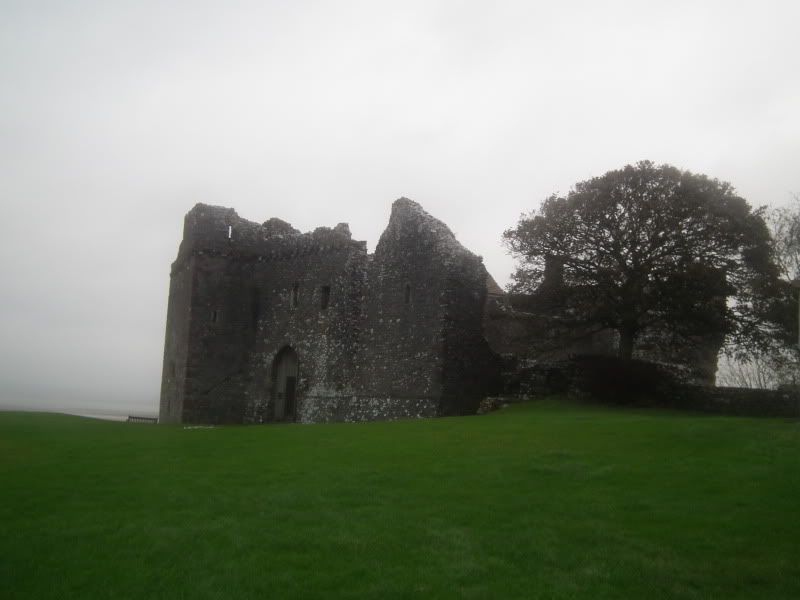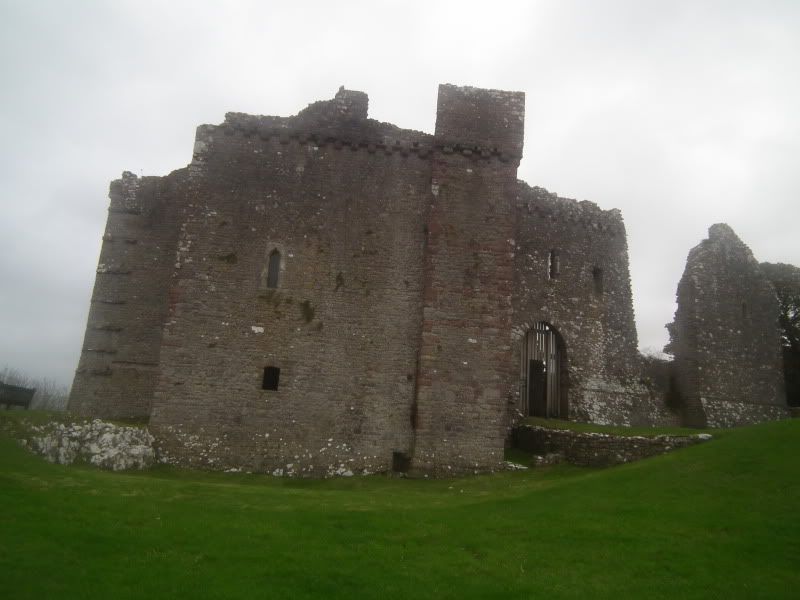 Swansea Castle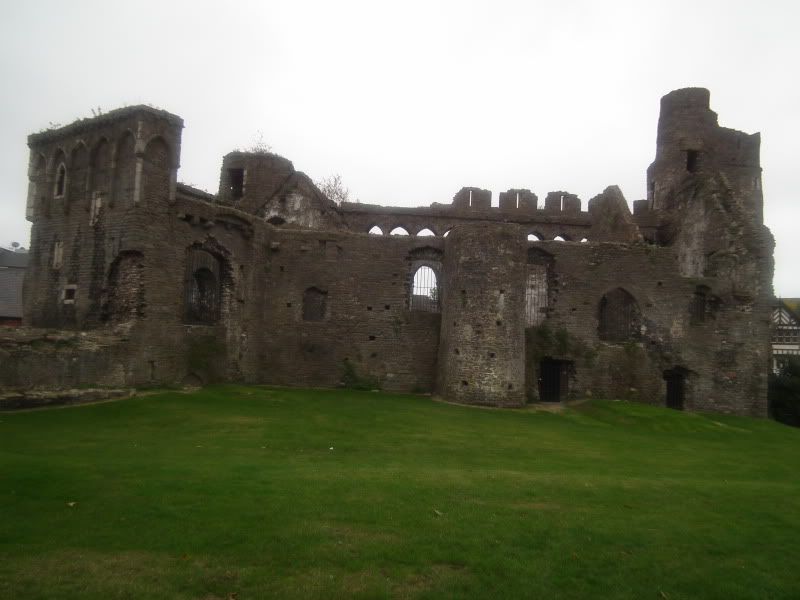 Kidwelly Castle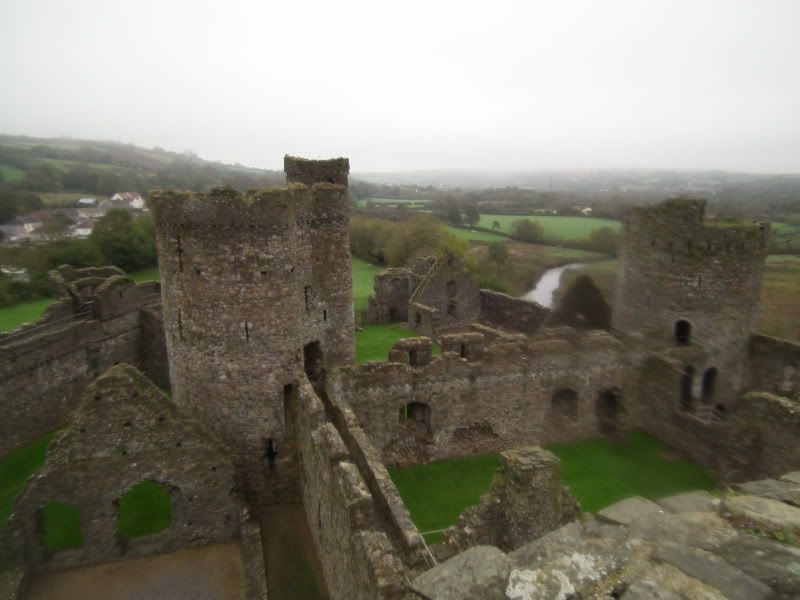 Llansteffan Castle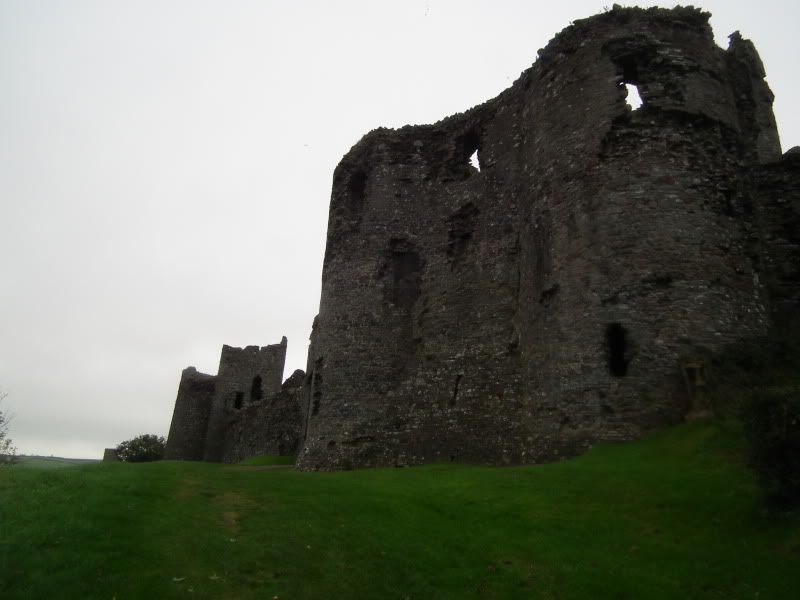 Beaupre Castle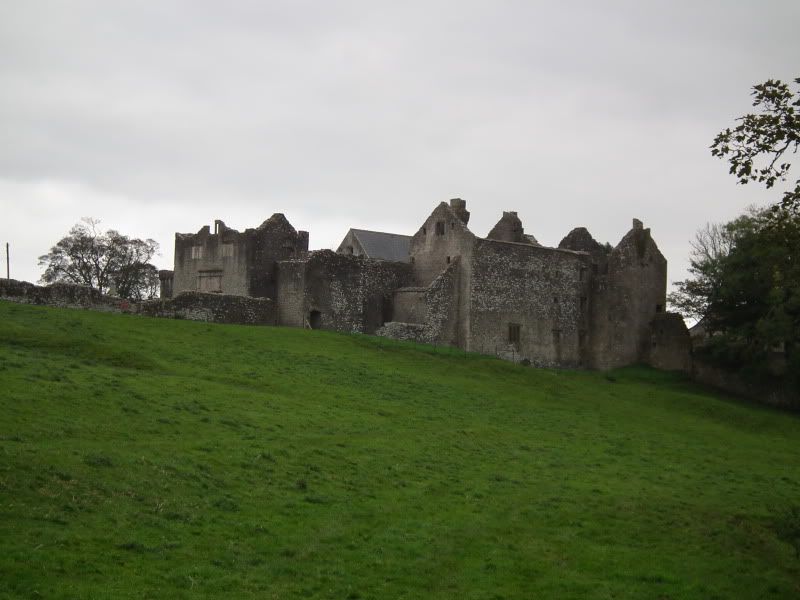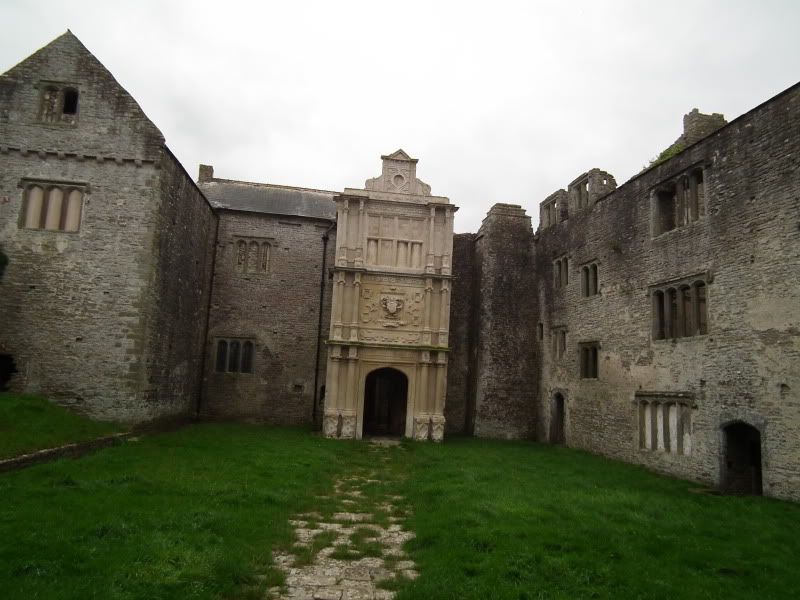 Barry Island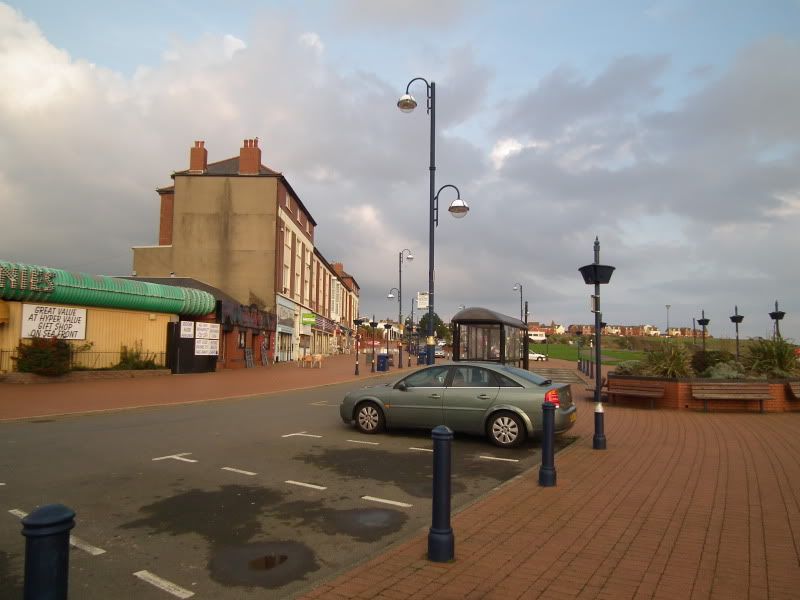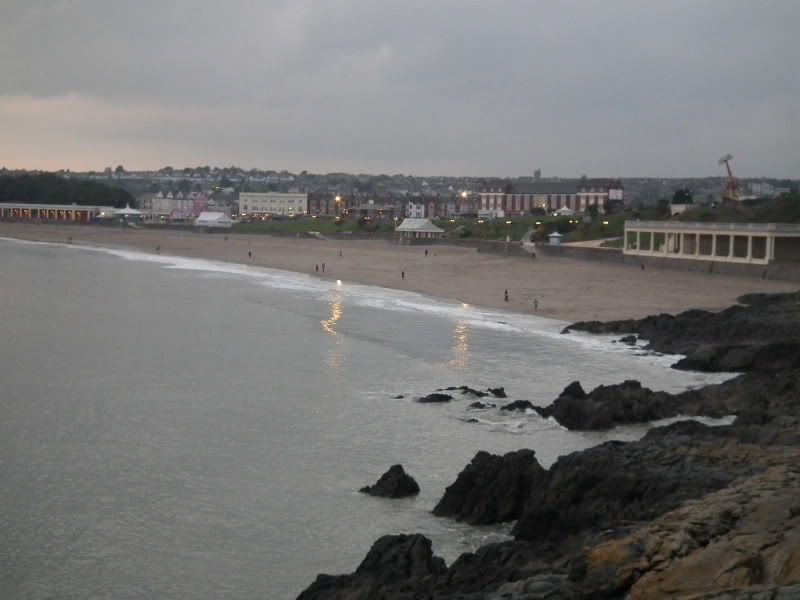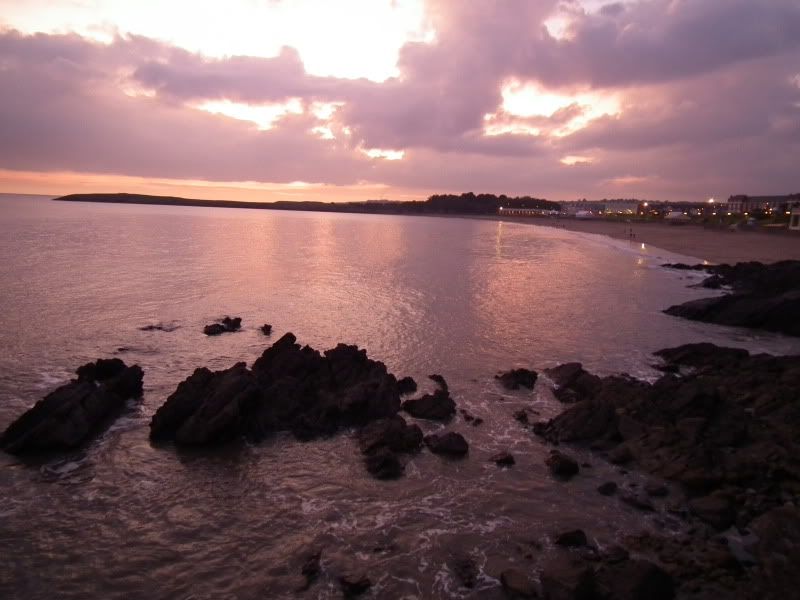 Caerphilly Castle