Post by Dave on May 25, 2010 22:07:24 GMT
I'm really looking forward to the world cup and hope that England can win it, I thought it would be a good idea to take a look at the three stadiums we will be playing our three games in.
The Royal Bafokeng Sports Palace
is a rugby union, association football and athletics stadium in Phokeng near Rustenburg, South Africa. It was built and is managed by the Royal Bafokeng Nation
The capacity of the stadium was increased from 38,000 to 44,530 to be able to host five first round matches and one second round match at the 2010 FIFA World Cup[2]. The Royal Bafokeng Stadium plays host to the round one Group C match between England and the United States on 12 June, 2010.
For the 2010 tournament, the main west stand was upgraded and enlarged and given a new cantilever roof. Other improvements include the installation of new electronic scoreboards, new seats, and the upgrading of the floodlights and public address system.The stadium upgrade was completed in March 2009 for hosting 4 matches of the 2009 FIFA Confederations Cup.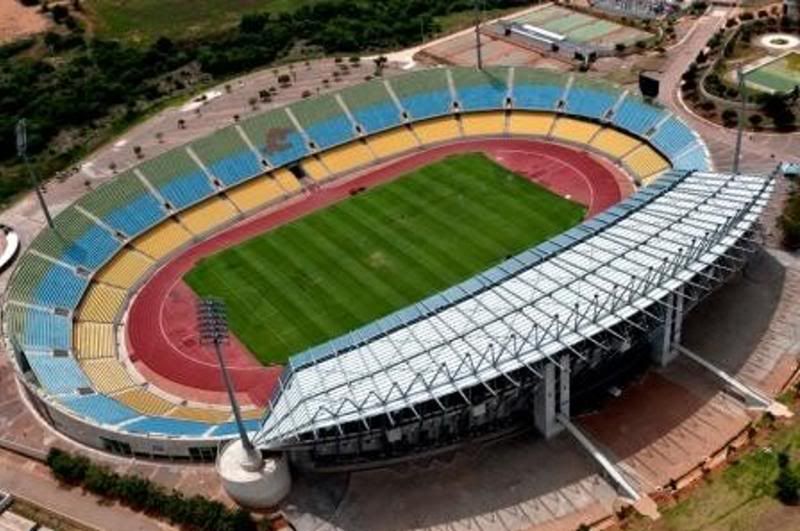 The Cape Town Stadium
in Cape Town, South Africa is a newly built stadium for the 2010 FIFA World Cup,during the planning stage it was known as the Green Point Stadium, which was the name of the previous stadium on the site.
The stadium is located in Green Point, between Signal Hill and the Atlantic Ocean, close to the Cape Town city centre and to the Victoria & Alfred Waterfront, a popular tourist and shopping venue. The stadium has a capacity of 69,070 The stadium is connected to the waterfront by a new road connection, Granger Bay Boulevard, and is surrounded by a 60 hectare urban park.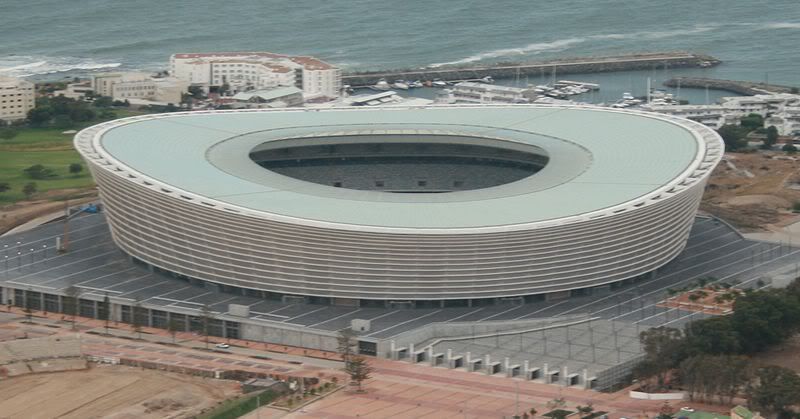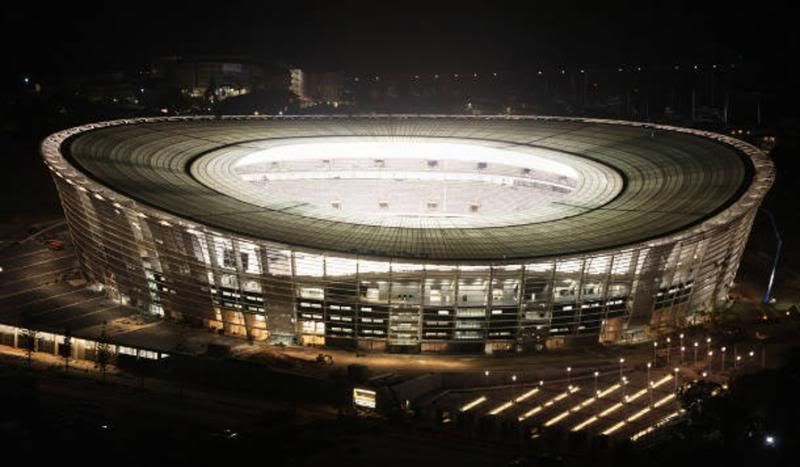 The Nelson Mandela Bay Stadium
, set on the shores of the North End Lake is the first football dedicated stadium in the city or surrounding areas. The stadium, one of the newly-built stadiums for the 2010 FIFA World Cup™, was completed a year prior to the commencement of the world's greatest show on earth - a major milestone for the city.
The Nelson Mandela Bay Stadium will host the match for third place , and a quarter-final amid a total of eight matches during the FIFA World Cup. The stadium has an eye-catching, unique roof-structure and a spectacular view, overlooking the North End Lake.
Before the construction of this multi-purpose venue, all international football matches were played at the Eastern Province rugby stadium, the EPRU Stadium. The playing field is going to be of natural grass with the outer /surrounding area to be artificial turf. One of its first major test events was the coveted Soweto Derby between Orlando Pirates and Kaizer Chiefs - a game that attracts capacity crowds in South Africa.