Post by Jon on Apr 5, 2009 22:54:27 GMT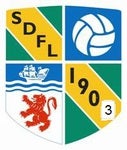 Johnny Martin
came to Plainmoor on either a short contract or trial under Malcolm Musgrove. I seem to recall Southport and possibly Aston Villa on his CV, and he
DID
manage a few first team appearances for the Gulls...................perhaps Jon could confirm the actual facts.
Kevin Lane
was a 16 year old debutante when he came on as a sub in a League Cup tie and sensationally hit an equalizer and then the winner according to my dim and distant memory.
Johnny Martin was a winger who did indeed come to us from Southport on a monthly contract with a view to something more permanent. I too would have thought he had some first team games and was initially surprised to see that he is missing from the Centenary History player listing. What is probably confusing us both is that Johnny was a member of the "boys of 76" who heroically brought home the South West Holidays Cup in August 1976. Our trophy cabinet is not sufficiently full for us to take that achievement lightly!
I don't know where the trophy is nowadays, but we should have it somewhere because the tournament only lasted one season. Confusingly, the Devon Bowl had recently been scrapped because there was no room for it in the calendar, yet the summer of 1976 dreamed up this new tournament which had a rather strange format. We had been drawn to play Bournemouth in the League Cup and Exeter were drawn to play Plymouth. In the SWHC, each team played the two that they were not playing in the League Cup - one at home and one away. Points were awarded at three for a win (revolutionary at the time), one for a draw and one per goal.
On August 3, we beat Exeter 2-1 at Plainmoor. Johnny Hore put them ahead, but we went on to win with goals from Hickman and Brown. On August 11, we drew 2-2 at Home Park. Argyle went 2 up through Brian Hall (ex Liverpool) and Paul Mariner (soon to be England) but we pulled back with the goals again coming from Hickman and Brown. (It's a crying shame that Mike Hickman was so cruelly afflicted by injuries - what a player he could have been for us!) The final table had us on 8 points, Exeter on 7, Bournemouth on 6 and Argyle on 3.
Johnny Martin started both games but was substituted in both - replaced by Andy Provan against Exeter and Steve Morrall at Argyle. He never appeared in what is commonly accepted as a "first class" game for us and was released after a month at the club.
Kevin Lane's "first class" debut was, as stated, that amazing League Cup game with Swansea that we won 5-3 on August 27 1975. Kevin had come down on trial towards the end of the previous season and had certainly proven his goalscoring prowess in the Western Counties Floodlit League - a midweek league in which we fielded a mixture of fringe players and trialists. On 29 April 1975, Lane amazingly bagged FIVE goals in an away game at Poole Town. Even more amazingly, he probably lost out to Eddie Rowles in the fight for the matchball souvenir, as Eddie outdid him by bagging SIX for himself. United won the game 14-0 with the other goals coming from Cliff Myers, Dave Kennedy and Derek Harrison.