Post by Alpine Joe on Aug 28, 2019 14:03:00 GMT
PLAGIARISM !!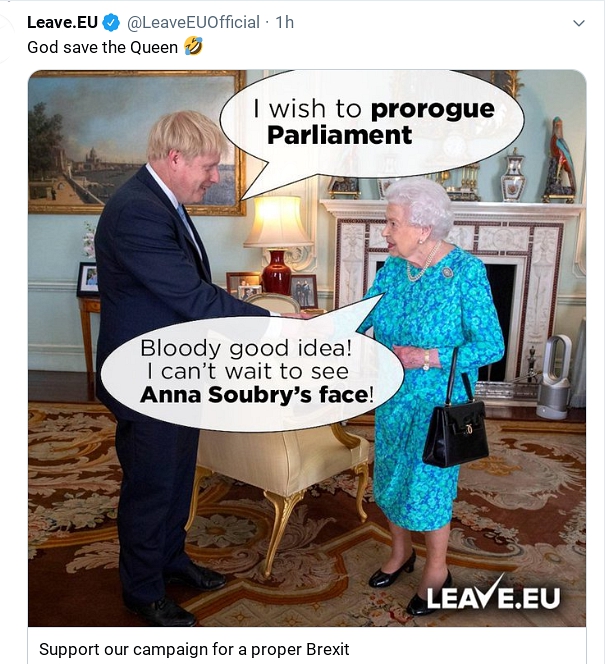 Where TFF leads, Official Leave EU follows ....eventually. While nothing can be proved, this looks highly suspicious. A couple of hours after our Betty & BoJo meeting, LeaveEU put out something remarkably similar, even to the extent of the Queen saying 'bloody' ....and they get a 'like' from no less than Aaron Banks !
But leaving that injustice aside, today's developments won't deflect Prime Minister BoJo from working as hard as ever to secure a good deal for the UK. In fact there must still be a reasonable chance that Boris can come to an agreement with the EU and put it to parliament for its approval so that we don't actually leave at the end of October without a deal. Thereby assuaging the concerns of those most opposed to 'No Deal'
The difficulty is that a deal was arranged that the other 27 EU member Governments were happy with, indeed the British Government was happy with as well...the only fly in the ointment was the British parliament who said it was not good enough.
And so, to the EU's annoyance everyone has attempted to find something more to the UK parliament's liking. With further extensions agreed in order to do so.
But it's now well over 3 years since the instruction was received from the people of the UK to leave the UK. Assured before they went into the polling booth by their Government that their decision would be implemented.
MPs voted by a large majority for Article 50 whereby you Leave with No Deal if you've not agreed one within 2 years. After this MPs got themselves elected by standing on manifestos to respect the result of the Referendum. In fact Tory MPs such as Woolaston garnered voted by standing on a manifesto declaring that 'No Deal was better than a bad deal'. But now, once they were back in parliament, those MP's voted down the deal put before them as 'bad' 3 times, but then refuse to implement the 'no deal' part of their pledge. And then rub undemocratic salt in the wound by refusing to stand before the constituents they deliberately misled, and allow those people a by-election in order to vote for someone more likely to keep their word.
The implementation of our democratic decision has been delayed far too long already. A deal in place before we leave might have been preferential, but as that's not been possible in over 3 years, then work on achieving a deal after we've left is the option we need to move on to.
That said, I deplore the triumphalist response from both the corgis and Her Majesty, and would just ask them whether Remainers would be crowing if the Referendum result was binned and Article 50 revoked ? Surely Remainers would quietly accept it as necessary, but with a heavy heart (the hell they would

) and probably work something in about
'best interests of the country'
So whatever our views, let's remain united, in the same way we would under a Corbyn led government of national unity.