Post by chrish on Apr 26, 2011 13:01:06 GMT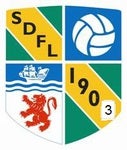 What I cannot understand is that why people cannot be allowed to tell the truth ie we have blown it. Why do we have to be "proud" of that.
We have done reasonably well but its going to be galling to miss out when we were in such a strong position.
Gospel hole - read loyalgull's report of the game. We didn't turn up - full stop.
Do you think the likes of Accrington and Stevenage have better players than us - they don't!
Blown it? We have two games left. We haven't blown anything. Were we pre-season favourites to go up? No. Do we have the right as supporters to expect promotion considering the budget we are on? No. If the answer to both these questions above were "yes" and there were no more games left then yes, you could say that we've blown it. Your reaction is just a load of negative bollocks.
Mark Ellis froze himself out with some very average performances. If something happens to Ellis or Robbo, he'll be the first choice to come in.
Kee on the right wing? No. Kee on the right hand side of a 4-3-3. Maybe. Buckle said earlier in the season that he already had some experience of playing there. But what's the option? O'Kane? Nowhere near the form he was in. Zebroski? Some like him as a striker, others like him as a winger. Robinson? Perhaps but he likes to cut inside on his right foot.
Do I think that Stevenage and Accrington are better sides than us? No, not really. Stevenage are big and strong, Accrington have a style of football that makes them very awkward opponents and have a home pitch which is a very big advantage for them. Both have decent managers. But then again I don't think much of Wycombe. I thought Crewe were a fantastic side but they've petered out. It's a strange division and only Chesterfield with the excellent Jack Lester have shown any real consistency.
Bevan (not Beavon or Beavis you prat) has his limitations but he's also make countless saves that have translated into points.
I'll say this again very slowly. We are a small 4th division team with small budget and a small squad. You go on like some Premiership "fan" who's just seen his club spunk millions on foreign mercenaries and they've just missed out on a Europa League spot.
If you can't get your tiny mind around being "proud" of what the club has achieved this season then I think the nuances of lower league football are lost on you quite franky.
"We didn't turn up"? Neither did Arsenal at the Reebok, Man Utd at Wembley or Bolton at Wembley. Do you know something? Sometimes things don't go for you, sometimes performances aren't the best. This is football FFS.
I'm as bitterly disappointed about the Burton result as anyone but I'm not going to blame anyone. As a disappointed LoyalGull says "we don't like doing it easy do we?"