Post by merse on Apr 4, 2010 7:40:01 GMT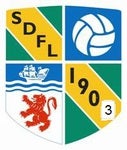 Carayol has always had ability. He is a player who seems to have fallen foul of the Buckle style of management ie if you are disliked you don't get in the team.
Caryol certainly does have ability, but he has had to appreciate that he cannot play as a pure winger within the Plainmoor set up..................or many pro' set ups for that matter.
It's not a matter of a manager "liking him", but preferring at the time to use another player with his different approach to the role that he is in consideration for within the team.
It's very difficult for wide players these days and very demanding as very few managers play with pure wingers per se, instead wide midfield players are expected to get up and down that touchline, pull out wide to provide an "out" for the others to pass to in a pressure relieving way; track back and mark the opposition moving forward and provide cover for their own fullback behind ~ especially if that full back is going to be Kevin Nicholson ~ and until the game "stretches out" in the last thirty minutes or so; carry on doing that until he can make a decision to put getting forward as more of a priority to defensive duties.

If you listen to Paul Buckle in yesterday's after match interview you will hear him allude to this and the amount of time it has taken Muzzy to take all this on board.
Both Thomson and Caryol are still developing, still learning and maybe Thomson has taken a little more "persuading" from his manager at Plainmoor than was thought reasonable to have to give and was reminded of that fact when he was back at Southampton!
Presumably playing Caryol on the right has allowed the more reliable Zebroski to provide the tracking back that allows Nicholson's inclusion once more........................but is that at the expense of blunting Zebs' striking power?
I think playing Caryol
AND
Thomson in the same side at the moment would be suicidal as they cannot be relied upon 100% to do the "dirty" work that they obviously have shown less appetite or aptitude for.
It's an aspect of the game they will either take on board by listening and watching players like Zebroski and Carlisle or they will drift out of the pro' game with everyone scratching their heads and asking
"what happened to them?"