Post by lummatoncross1 on Sept 5, 2014 17:26:39 GMT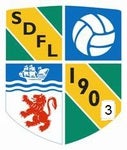 Good man, Si, I thought you'd welcome the chance to mention Hull KR. If I was from Hull, which I'm not, I'd like to think I would have been from east of the river (I know not why).That, I guess, would have given me the chance of supporting Hull City, Hull KR or both. I wonder which way(s) I would have gone? I suppose I couldn't have ruled out the possibility of being an out-and-out league fan with only a passing interest in football. But Hull FC? No. (As for our man Si, I'm assuming east of the Dart and south of the Teign?).
Yet I am taken with the naming of Torquay United's number 24. I can see the rationality of adopting an abbreviated name for social and everyday purposes. Equally, if I was now playing with a name on my shirt, I'd like the full version. And likewise in match reports. O'achie is a curious hybrid: vaguely Irish but that lower case "a" isn't quite right.
So what would a linguistic scholar such as Jon make of its construction and application? Or, more to the point, would he be able to tell us of other Torquay United players who have been known (officially or otherwise) by more than one name?
I'll give you one. Last season's Shamir Goodwin is now Shamir Fenelon. I trust that's not so he can creatively distance himself from being associated with Torquay United 2013/14. I think not because he apparently enjoyed his time with us. But I can see how you might want a name change when you learn more about your background or see it in another context. I'm adopted, for instance, but - there again - I'm rather too long-in-the-tooth to consider a change of identity. The only Football League player to carry my original name curiously played for Exeter City. And it wasn't Forbes Phillipson-Masters.
Mind you, I was given a new nickname a year or two back. That's something you invariably accept - unless it's too odious - as a child. But as an adult? Well, it depends. I went to Portugal to see Euro' 2004. I guided our little party and was given the name "Henry the Navigator". I liked that. Two years ago I moved to Sheffield and started watching football with a bloke who referred to people by the teams they supported. There was "Tim the Imp", "Peter the Blade" and "Andy the Barnsley Fan". There may even have been "Chris the Spireite" at one time. There was also "Heidi the Dog" although, rather than being an obvious football fan, that was the neighbour's dog.
Anyway our man was from County Durham and up there they often use the dialect word "wor" in place of "our". You'd have heard of Wor Jackie, Wor Kevin and Wor Alan no doubt. Well, on account of my roots and allegiance, the bugger started to introduce me to people as "Tor Nick". Absolutely cringeworthy and I certainly didn't want anyone to think it was at my suggestion or insistence. Fortunately nobody else fell into the habit of calling me this. And, should anybody on here even consider it, I'd warn you against doing so.